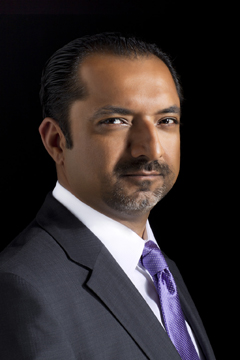 A few months ago, we invited Aziz Hashim to be our keynote speaker at a Great Clips franchisee meeting. Aziz is founder and General Partner of NRD Capital, the first business fund both sponsored and managed by a multi-unit franchisee. (You can read about what he shared with our group here , and learn more about Aziz here ).
In a follow-up conversation with Aziz, he shared what he thinks are the greatest business challenges for franchise organizations in 2015. He listed five: finding quality labor, government regulations, customer resistance to price increases, the saturation of available customers, and real estate.
He went into detail about each challenge, but the one that really hit home for me was real estate. "Finding quality locations is difficult and getting more expensive," Aziz said. "I believe strongly that franchisees should not skimp on real estate. My advice is to spend more money to get the better location because if you don't, you'll regret it later."
Great advice, but for a new franchisee and even established franchisees, it's not always easy to find those premium locations, even when you're willing to pay a premium price. There are a lot of resources franchisees can use when considering their first location, and perhaps none more valuable than this: their franchisor. Good franchise organizations have long-term relationships with experienced commercial real estate brokers and developers, and they typically know the best-established and new retail sites in their markets. 
One of the first steps to finding the best retail site is to know what kind of real estate is best for your customer demographic. Great Clips President Steve Hockett recently sat down for an interview with the Kimco Realty blog and explained the types of locations that work best for Great Clips salons.
What type of locations do you seek when opening a new salon?

Steve Hockett: Our intent has always been to look for centers anchored by shops like Walmart, Target and similar stores. But we also do very well in strip centers that have great visibility, and good ingress and egress in a retail area. Good retail areas are where we want to be. In many ways, we're the destination where people go out just to get a haircut, but we also know that's not always the only thing that they'll do in the shopping center. Our average customer comes in every four to six weeks, so if we can be where people are consuming and where retail is building, we know that they'll come in and see us when it's time for a haircut because they pass by us when shopping at other stores.
Also important is having the ability to know when a prime location might be coming on the market before it actually does. Great Clips franchisee Nick Layman, who owns 13 salons in the Salt Lake City market, uses his real estate connections to get that information.
"I've developed a great relationship with our Exclusive Agent who is really great to work with," says Nick. [Exclusive agents are commercial real estate brokers who work closely with Great Clips franchisees in specific markets.] "The earlier I can be informed about what's out there—even if I'm not ready to actually do anything—the better."
I agree with Aziz that finding the right location for your business is getting harder, but it's not impossible if you use the resources available to you. I always make it clear to a new Great Clips franchisee that this is their business and they are responsible for finding and evaluating potential locations. But, they are not alone. The Great Clips team is here to give them support and information because we want them to be successful, and the location of their first salon is an important factor in driving that outcome.
What's the best thing you did to secure a great location for your franchise business? Make a comment below.
About those other challenges that Aziz mentioned above? In a future blog post, I'll share with you what he said about each of them—and why in spite of these challenges, franchising is still a great investment.