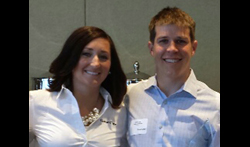 Eddie Lang, an Exclusive Agent (EA) in Houston, Texas, was named the Great Clips EA of the Year by the real estate department at this year's International Council of Shopping Center's RECon event in Las Vegas—Eddie received a plaque and recognition among his peers for this award. The award is given each year to an EA that displays tremendous franchisee support and assistance, consistent communication with the Great Clips Real Estate department, landlords, and franchisees, as well as the ability to negotiate and secure  timely, fair and equitable deals  for our franchisees.
EAs are independent real estate professionals that assist with purchasing and leasing real estate. In most cases, EAs have a portfolio of brands that they assist securing real estate and promote to landlords. EAs keep a close eye on high priority centers for vacancies and opportunities, as well as act as a liaison to the developers for franchisees and real estate managers.
Eddie started in real estate in 2007 and became an EA in 2010. He is married and has four children, ranging in ages from two to six years old. Eddie is incredibly supportive in our real estate efforts in Houston and adds value by making things easier for our franchisees and real estate managers. He adds value by having in-depth market knowledge, strong local relationships to help drive deals, and a solid understanding of the Real Estate Policy and our procedures. Eddie understands what makes a good tenant representative and showcases this in his relationship with us and our franchisees.
Over Eddie's four-year career as an EA, he has had the opportunity to develop relationships with a number of our real estate managers, including: Belinda Avera, Davis Bennett, and Holly Robinson. He recalls that the first couple years were tough, due to a real estate downturn in Houston, Texas, "My timing getting into the real estate brokerage business could have been better, but Belinda Avera believed in me when I was young in the business and gave me a shot, which everyone in my business needs," said Eddie. "Her faith allowed me to weather the storm of a difficult market."
Current Houston Real Estate Manager, Holly Robinson, adds that Eddie "does whatever it takes to help franchisees get comfortable with a site or deal and helps keep Great Clips in a competitive position. Eddie understands what makes a good tenant representative and showcases this in his relationship with us and our franchisees."
Eddie especially enjoys working with Great Clips franchisees, who he describes as focused, motivated, considerate and trustworthy. When speaking about Great Clips, Eddie remarked that he doesn't know of another franchised brand that offers a more extensive support system for real estate. "Great Clips' real estate policy, site submittal system and impact study analysis enables us to move quickly and take the necessary steps to securing the best real estate," said Eddie. "A company of this size needs direction and protocol, which they've accomplished while maintaining the personal connection necessary to be successful in real estate."
The role of the EA is often overlooked, which makes this award all the more special for Eddie, "To receive a real award with a plaque that I can display in my office to show others is unheard of in this industry," explained Eddie. "I am grateful and proud of the award, and feel closer to the people of Great Clips because of it."
Thank you, Eddie, and all our EAs across North America for their help behind the scenes getting deals done with landlords and franchisees.