Does this look like a good location for a family-focused hair-care salon?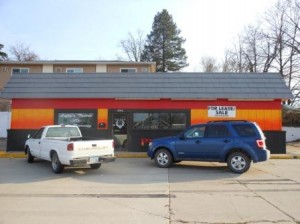 This tattoo parlor — a tired building painted in a bohemian color scheme with no strip mall or anchor store in close, visible proximity — certainly didn't fit the guidelines of a typical Great Clips salon, but one of our franchisees was able to see the potential.
After a major overhaul, this former tattoo parlor was transformed into a beautiful walk-in hair salon.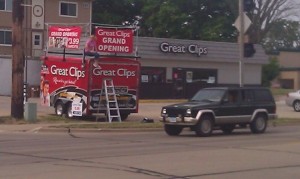 In retail, location is critical and that counts double for the hair-care industry. A walk-in salon depends on the foot traffic generated by neighboring retail businesses — typically those in a strip mall anchored by a big box retailer — to attract customers. Many Great Clips customers are intentional. They plan their shopping outing so they can get groceries, pick up dry cleaning and get a hair cut, all in one trip. Other customers are "drive bys." They're heading to Target, Wal Mart, Publix or Kroger and they see our signage and make a spontaneous decision to get a haircut.
But, as we all know, consumer behaviors are changing and the retail industry is changing along with them. (This is certainly a chicken-and-egg situation—is retail changing according to consumers' behaviors or are consumers changing as retail operators lead the way? It's probably a little of both.)
Regardless, the face of retail is evolving and "retailers who don't adapt quickly and successfully risk losing out," says Kevin Sterneckert, a retail technology analyst quoted in this interesting article about why shopping will never be the same , due in large part to consumer interaction with and dependance on gadgets. It's easy to project how some of the tech-tools mentioned in this article apply to the hair care industry:
Location-based apps and mobile sites on smartphones help the consumer find a store they're looking for (We're ahead of the curve on this one with our incredibly successful Online Check-In and new GreatClips.com mobile site);

High-tech mirrors allow a customer to see how they would look in a new outfit—or a new hair style;

Apps like Square and GoPago let consumers pay for their selections—or their haircut and product purchases—using their smartphone.
MORE: Read about how Starbucks just joined forces with Square.
The bottom line is that the face of retail is changing, and for businesses that depend on the foot traffic generated by neighboring stories, it's imperative to stay ahead of the curve on consumer behavior. As more and more people use technology to plan their shopping trips and to complete their shopping transactions, I'm certain we'll be figuring out new ways to attract and serve our customers.
How is your business adapting to changing consumer habits?