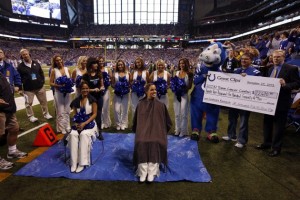 Sixty-five Great Clips salons in the Indianapolis market recently participated in a campaign to raise funds for leukemia research and to show support for Chuck Pagano, the coach of the Indianapolis Colts NFL team, who was diagnosed with leukemia in September. After the announcement of Coach Pagano's cancer, Blue, the Colts' mascot, issued a challenge to the Colts cheerleaders that if he could raise $10,000 for leukemia research by Nov. 25, one of them would have to shave their heads. One of the cheerleaders accepted the challenge and thus began the campaign to raise funds.
Naturally, when it comes to offering haircuts and partnering with charity, Great Clips stepped up to help. Sixty-five Great Clips salons in the Indianapolis area offered free buzz cuts to Colts fans who wanted to shave their heads in honor of Coach Pagano. For each fan that shaved their head, Great Clips donated $10 to support the campaign. Fans could also go online and donate money directly to the fund.
In the end, more than $22,000 was raised and two Colts cheerleaders had their heads shaved during halftime of a home game. Their hair was donated to Locks of Love through Great Clips. The proceeds from the event benefited leukemia research at Indiana University Simon Cancer Center. Coach Pagano has since received treatment and his cancer is in remission.
This is just one example of Great Clips' work with charities. Click here to find out more about what Great Clips has done to support the communities we serve.