In 1996, I opened the first Great Clips salon in Tennessee. I almost didn't qualify as a Great Clips franchisee. Great Clips just barely let me in. My father, who was just a small farmer, had to promise to back me if I struggled. Great Clips took a big chance on me.
Now my wife Tammy and I have 22 stores in the Nashville market and four in Bowling Green, Kentucky. It's been an amazing journey. I remember struggling early on to reach the bare minimum weekly sales, and now, it's not uncommon to have record weeks. 
Because of my success with Great Clips, I'm in an economic position to make a difference when I see the need. As someone who wants to express Christian values by supporting worthy endeavors, this is very important. One way I'm doing that is in Africa.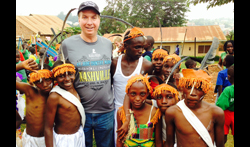 I just got back from a trip to Uganda and Kenya, where I'm working with some other Christian-oriented businesses to help Ugandans become distributors of Tiva Water Filters . My contribution is advisory and financial, providing seed capital because we want the Africans to really take ownership. We want them to be able to keep it rolling themselves. Our goal is to make the businesses sustainable.
I'm pretty sure I would never have had the financial resources to do this, if it weren't for Great Clips. It has taken me many years to build my business—and it has been a lot of work—but in the last three or four years, being with Great Clips has given me the ability to support programs that are making a difference in people's lives. What money does is give you more choices.
I have a lot of respect for Great Clips as a franchise operation. If you have the desire to work within a system and invest sweat and equity capital, Great Clips provides a wonderful opportunity and a proven system.
With Great Clips, the very real possibility is there to reach your ultimate dreams and help others do the same.