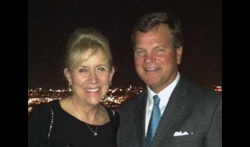 Pete Gilreath, a Great Clips franchisee in Nashville, Tenn., is a real believer in doing exactly what his franchisor recommends.
That wasn't always true. Five or six years ago, he was at a crossroads as to what to do. Profits just weren't that good and he was at a loss about how to make things better. He either needed to change the situation or consider selling his Great Clips salons and dropping out of the business.
Today, thanks to supportive mentoring by fellow franchisees and a strict focus on numbers, Pete is a successful and satisfied owner of five thriving salons in the Nashville market.
The cornerstone of his turnaround? "The number one thing contributing to our success is our focus and commitment to follow the business guidelines and use the tools that Great Clips offers us," he said, "and then using data to evaluate how we're doing."
Much of that data comes from what Great Clips calls its Brand Measures – proven ways of doing business that contribute to profitable salons.
"I trust the brand," he said. "I know that Great Clips does a tremendous amount of research. I buy into it because it works. Every time they've advised me to focus on a number, it's always paid dividends." 
Pete gives a lot of credit for his success to Dick and Bev Hagadorn, long-time Great Clips franchisees in the Las Vegas market who have mentored many new franchisees.
"Over three or four months, they spent dozens of hours dissecting our numbers and on many conference calls with us," Pete recalled. "We implemented what they suggested and that was the start of our turn-around in sales growth and profit improvement."
Of course, the numbers didn't grow just because someone said they would. Pete established an incentive program for stylists, and adopted a management style that gives managers a lot of authority and flexibility in their salons.
Pete also posts his own "New Customer 12-Step Program" in every salon. The guidelines tell stylists exactly how to carry out our customer service model.
The 12-step program was the key that unlocked the stylists' understanding of how to improve new customer return rates, said Pete. Following the program also improves the over-all atmosphere of his salons.
"The one thing that I really stress is that first impression and the warmth that the customer feels within the first 10 to 15 seconds— it's a huge determining factor in whether or not that person comes back," he said.
"They've got to like their stylist and they've got to like their haircut, but they also have to feel that, 'hey, this place feels good.'"