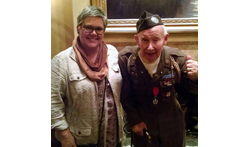 At Great Clips, collaboration among franchisees, corporate staff and vendors is important to our success as described in our vision: "Working together to build the most profitable salons by delivering the most powerful and enduring brand." One way we collaborate is through our Marketing and Advisory Review Council (MARC). The MARC is a group of 17 franchisees, elected by their peers, and up to three appointed members.
The intent of the MARC is to promote candid and open communications between franchisees and Great Clips, Inc. As part of the group's bylaws, the MARC meets with Great Clips, Inc. leadership in person three times each year.
Whenever we meet, there's a conscious effort to ensure we're combining two of our values: Listen & Earn Trust and Make it Fun . These meetings include a packed agenda of executive presentations, task force updates and brainstorming sessions, and we always make a point to take time to connect less formally and have fun. The relationships that form while working and learning together is just one of the ways we build greater trust.
Our most recent MARC meeting took place the same week as Veterans Day, which is a big day in Great Clips salons when we  recognize and celebrate active military and veterans with a special promotion. So at this November meeting, we wanted to do something that would help us make a personal connection to what was going on in the salons that week.
On the third day of our MARC conference, we devoted a portion of the meeting to relive history straight from the source. With the help of our Great Clips Chairman Ray Barton and Timothy Davis, Founder and Chairman of The Greatest Generations Foundation, we were honored with a visit from three special guests who recounted their World War II experiences. Here are their stories.
U.S. Marine Corps Sergeant (Dr.) Bruce Heilman joined the United States Marine Corps in 1944. He was deployed to Iwo Jima, Guam, Wake Island and Midway Island. He deployed to Okinawa and arrived in Okinawa during suicide bombing raids on the fleet. He went on to serve in ground operations on the island. He later served for six months on occupation duty in Japan flying as a radio operator on a fleet taking intelligence persons to Hiroshima, Nagasaki and other Pacific sites.
U.S. Army Private Joe Reilly was a paratrooper with the 101st Airborne Division. His unit was one of the first wave to fly across the English Channel and drop near Utah Beach prior to the D-Day landing. Nearly 900 men from his regiment were killed, wounded, missing or captured during the battle of Normandy. He went on to serve in Operation Market Garden in Holland during September 1944. His unit later fought the German army from Bastogne during the Battle of the Bulge.
U.S. Navy Flight Engineer Jack Holder was on the island of Oahu, Hawaii during the December 7 attacks on Pearl Harbor. He remembered seeing battle ship row ablaze "like it was yesterday." He went on to fly 34 missions over the Solomon Islands and Guadalcanal in a PBY flying boat and was involved in the Battle of Midway. He later captained a B24 aircraft guarding the English Channel from enemy submarines toward the end of the war.
It was incredibly inspiring to hear the stories from these veterans who fought heroically and sacrificed so much to protect our freedom. Perhaps the best way we can thank them is to ask them about their experiences, and then to listen. It was an honor to be able to do that and be in their presence.
Tammy Nienaber, Director of Communications, and Steve Overholser, CFO and Treasurer, contributed to this blog post.