For the world's largest hairball…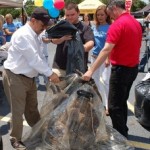 Great Clips salons typically immediately dispose of hair leftover from haircuts, but franchisees Ibrahim and Brenda Maslamani came up with a better use to help benefit their local Children's Miracle Network Hospitals—set a world record.
For months, salon staff saved hair in bags in hope of breaking the Guinness World Record™ for the largest hairball. The Maslamani's saw that the weighing ceremony for the hairball could be much more than just a date with a scale; it could be a fundraising opportunity for Children's Miracle Network Hospitals. With help from a local radio station, the event featured two live bands, a cheer leading squad, a local school band and classic cars from a car club. During the event, donations were accepted for Children's Miracle Network Hospitals.
The hairball topped the scale at a whopping 337 lbs—setting a new record over the previous title-holding 167 lb hairball. Read a full recap of the hair-saving event here .
Did you know?
This isn't the first time a Great Clips salon has broken a world record during a fundraising campaign. In 2011, two salons in Ohio set two separate world records while raising money for a local memorial fund.