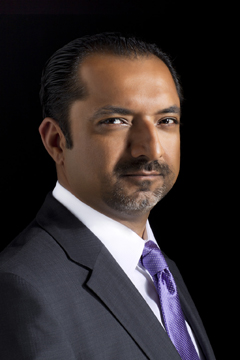 In an earlier post, I introduced you to Aziz Hashim, founder and general partner of NRD Capital, the first business fund both sponsored and managed by a multi-unit franchisee. Aziz has been recognized by Nation's Restaurant News as one of the 50 most powerful leaders in the foodservice industry, and is widely regarded throughout the franchise business for his leadership and success as a multi-unit franchise operator.  
Aziz was the keynote speaker at a recent meeting of Great Clips franchisees and corporate leaders. We had the chance to circle back with Aziz and, during an hour-long conversation, he offered up enough great ideas about successful franchising to fill a book. (Hmmmm….he's probably already working on that!)
Here's the first part of our conversation (more to come in future posts) in which he talked in detail about the critical relationship between franchisor and franchisee.
Aziz, you believe that you can tell a lot about a franchise business through the interactions between franchisor and franchisee. Tell me more about that.
Whenever I'm at a franchise event where both the franchisor and its franchisees are present, what I look for is what's happening during the interactions between the two. When the partnership is true, there is a certain openness and engagement. There's a lack of tension and people feel they can express themselves openly.
That's what really struck me about what I saw at the Great Clips event. During the meeting, there was a time for franchisees to talk about their businesses. Each of them shared some pretty personal and intimate details of their operations with the other franchisees, and also—this was the most impressive aspect—with Great Clips executives, including the chairman of the board, who were also in the room.
For these franchisees to be that comfortable that they felt they could say what they wanted to say without any filter—that is a visible demonstration of the culture. You can't fake that. That's real.
You make it sound like a love fest—and I know all too well that we often have spirited discussions! How does that fit into your idea that the interactions between franchisor and franchisee are a kind of barometer reading for the health of a company?
It certainly doesn't mean that franchisees and franchisor have to agree on everything and, they probably shouldn't, but the openness of the dialogue is what's most critical. It's analogous to the expression in retail:  Show me a good store and I'll show you a good manager. In franchising, it's the same thing: Show me a good brand and I'll show you where the dialogue between the franchisor and the franchisee is open and clear.
That's what I see at Great Clips. It's a cultural thing and it's set by the leadership of the brand. It requires leaders who aren't afraid of the conversation. I see a lot of franchisors who are intimidated by their franchisees. That leads them to make decisions or cut off the conversation because they are afraid an issue will be brought up—a solution that's obvious or a problem they missed. And they will not be able to save face.
To be open to new ideas or conflicting opinions takes confidence in strong leaders and that's what I saw at Great Clips. It's not about anyone being smarter than anyone else. You're working as a team. [Great Clips President] Steve Hockett's approach is, "If you got something, bring it on!"
I applaud Great Clips for inviting me to speak. It was so refreshing and remarkable that they did not censor anything I wanted to talk about at all. Nothing was off limits, which is unusual for a "hired gun" to hear from his host. That's a demonstration of how much faith and confidence Great Clips has in their franchisees. They don't have anything to hide, and they see their franchisees as part of the team.
Aziz had a lot more to say about the business of franchising, including how to stay competitive in a tight real estate and labor market, the benefits of multi-unit ownership, and what questions to ask before investing in a franchise organization. We'll post those comments in future blogs.