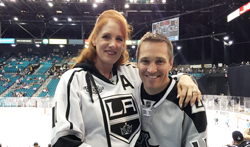 In this new series, "What I've Learned as a Franchisee," you'll hear directly from franchisees about what it's like not only to be a Great Clips salon owner, but also the advantages and challenges of the franchising industry.
In this post, Great Clips franchisee Bryan Bitticks talks about what it was like when he first started his walk-in hair salon business. He and his wife Tamara have been with Great Clips since 2009 and currently own seven salons in the Los Angeles market.
What do you like best about being a franchisee?
I like feeling like we have built a business that provides opportunities to a lot of great people. I'm not sure that is specifically about being a franchisee, but I know we couldn't have ever done it without being Great Clips franchisees. What I like I about being a Great Clips franchisee is feeling like I am part of a family. I am never alone and never afraid that a problem will come up in our business that we can't solve, thanks to the help and advice we get from the Great Clips' corporate staff and our fellow franchisees.
 
What is the most important thing you learned in your first year of being a franchisee?
We became franchisees by purchasing two existing salons. We learned a ton of things, but this stands out in my memory: Don't be afraid of losing customers as a result of letting go popular stylists. (We inherited a large staff in those two locations, most of whom we had to let go in the first year.) We found that customers really are loyal to the location, not a particular stylist—even if they request that stylist.
What's the advantage (or disadvantage) of owning a manager-run franchise business?
The advantage is a degree of freedom you get because you don't have to be present at the business location every day like you do in owner-run franchisees. With a manager-run franchise, there is a degree of discipline built in to keep owners from micro managing and being too involved in the minutiae of the business, which is to our benefit as franchisees.
 
The disadvantage, of course, is that like most entrepreneurs, we want to be able to exercise control over many aspects of the business. With a manager-run business, you can influence things as best you can, by hiring and training a great manager and pushing them in the directions you want them to go, but at the end of the day, all you can really do is exert your influence on the manager and your team. You can't cut hair and you can't meet and serve every customer.
What do you know now that you wish you'd known when you first became a franchisee?
On the positive side, I wish I had known how fulfilling it would be to provide employment to some really talented, dedicated and great people. On the negative side, I wish I'd known how frustrating it could be to deal with the various requirements by municipal governments, the state of California and the federal government! (But that's not exclusive to franchise businesses—any business owner will eventually face that issue.)
In a future blog post, Bryan will share his thoughts about what makes a great employee, how he overcame a challenging situation in one of his salons, and how to be a successful leader.
What question would you like to ask a franchisee about investing in and running a franchise business? Let me know in the comments box below.