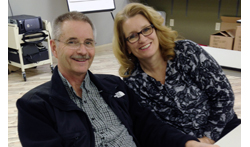 Business partnerships can be tricky relationships—and it only gets trickier when those partners are married to each other. In a previous post, I introduced you to franchisees Don and Laura Elliott who own 24 Great Clips salons in Tennessee and North Carolina.
Their advice for making sure both the professional and the personal partnership work? Three simple ideas:
Establish each person's role in the partnership

Be respectful of each other's roles

Treat each other like business partners
"There aren't any major decisions that we don't work out together," says Don. "I don't make a decision unilaterally. I consult Laura and our salon managers and then make the best business decision."
Like the Elliotts, Debbie and Ken Tillery are successful business partners as well as spouses. They own 20 Great Clips salons in the Columbus, Ohio market.
The Tillerys are onboard with the idea that responsibilities should be divided and assigned to one or the other partners. They made their decisions about what those assignments should be based on each other's strengths, talents and which tasks they like or hate.
"I am operations and marketing," Debbie says. "Ken is more behind the scenes—managing the technology and the build-outs. When we started out, Ken was working full time. I was doing Great Clips full-time—he wasn't involved at all. As we grew, I knew I couldn't do all of it. Ken started helping with the books at night and then he was able to retire."
The two mostly agree on who does what. But there are times when something comes up that doesn't appeal to either of them. Those are the times that call for negotiation and compromise.
"When we're doing the things we like to do, that's easy! But when we have to do something for the business that's challenging or that neither one of us likes to do, it's harder to decide whose job it is," Debbie says. Their solution is to take turns doing those tasks—at least, for most of those tasks. She's not so willing to trade off when they get a call in the middle of the night.
"I don't find that decision about responsibility difficult at all," says Debbie. "When we get that phone call —perhaps the alarm has gone off in one of our salons—I say, 'Okay, Ken, that's you, not me!'"
Joking aside, the Tillerys make big decisions jointly. "We absolutely talk all the time about what our priorities are. We don't let our egos get in the way—we focus on what's best for the business," Debbie says.
The other dilemma that often develops in a business partnership between spouses is how to separate your business life from your personal life.
From what I've heard from the people I spoke with and the  articles I've read, that's nearly impossible. The best you can hope for is to find a balance.
"Sometimes it's hard to not talk about the business," says Debbie Tillery, "especially when we're on vacation and we're both getting calls about what's going on in the salons—that's when it's a challenge."
Of course, there are benefits to marital business partnerships. For one thing—and maybe it's the most important thing—you know you can trust your partner.
"The positive is that we know each other's core values, we completely support and trust each other and we are pulling on the same rope," said Angie Stocklin, in an article about working with your spouse and keeping your marriage intact. "That makes the good days, the victories, the knowledge that we are helping our community, that much sweeter. It is so special and rewarding to know that we have built this business together!"