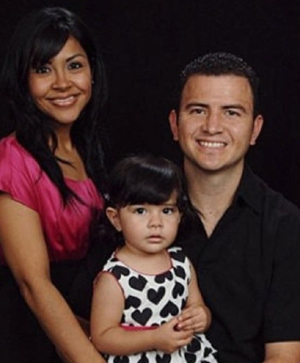 PROSPECTIVE FRANCHISEE  Liliana Cuevas
AGE  30
RESIDENCE  Humble, Texas
CO-FRANCHISEE  Luis Cuevas (husband)
Liliana Cuevas and her husband, Luis, are about to finalize their franchisee agreement to open a Great Clips salon in the Houston market. We asked them to share their experience navigating the franchising process.
THE BACKSTORY
When Luis Cuevas happened to walk into a hair care salon a few months ago, little did he realize that he would be leaving with more than a haircut. He walked away with a business plan.
Before that fateful visit, Liliana Cuevas and her husband, Luis, had been researching business ownership for about a year. They both wanted something that would allow them to earn money while having a flexible work life to be available for their children.
"That's not always possible with a corporate job," said Liliana, who has a background in sales and marketing.
During his visit to a salon (other than Great Clips), Luis got into a conversation with the manager who told him about the franchise business model. He thought it sounded like a great opportunity and asked Liliana to look into it.
The more Liliana found out about owning a franchise, the more she liked it—an opportunity that comes with a proven business model, support from the franchisor, and a community of like-minded entrepreneurs. At least, that's the ideal situation, which Liliana discovered isn't always the case.
"We looked into the auto insurance and food industries, but we were really disappointed once we talked to some of the current franchisees," Liliana said. "It wasn't always positive stuff we were hearing, mostly around the lack of support for the franchisees after they signed the contract. It's scary to open a business and then not feel confident that your franchisor is going to support you."
Initially, she hadn't explored the walk-in hair salon concept because "we thought we needed to have experience in hair cutting," said Liliana. "But because it's a manager-run business, the franchisee doesn't need to know anything about cutting hair!"
What attracted her to Great Clips? "A lot of things, but two things stood out: Great Clips doesn't own any company stores—all the salons are owned by franchisees. I like that. And, just reading all the reviews—everything was positive. I didn't find anything negative.
"I can tell Great Clips is a straightforward and honest company. I haven't talked to one franchisee who is not happy with their decision to invest in Great Clips. They say that the business model works, which gives you a great chance to be successful, and that they receive great support—not just before signing the contract, but also afterwards." 
THE CURRENT STORY
Liliana reached out to Great Clips and in just six weeks, she and Luis have gone from business researchers to prospective franchisees. The next step is executing the franchisee agreement.
"I've been working with Laura Roper, Franchise Development Manager in Great Clips' home office," Liliana explained. "I talk to Laura once a week so I can learn more about what we're getting into and they can get to know me better. It's just as important for them to understand what I would be like as a franchisee as it is for me to learn about them."
Once she and Luis sign the franchisee agreement contract, they will start working with a Real Estate Manager to find a location for their first salon. They hope to open that salon within four to six months.
THE FUTURE STORY
Liliana is impressed with the support she's received so far, and is confident in the support she'll get once she's an official franchisee. 
"For someone like me with little experience owning a business, the biggest challenge will be learning the business. There are so many things that I really have no idea how to do," said Liliana.  "But I'm confident I will learn so much through the franchisee training that Great Clips provides—like using the software, how to hire and manage your staff, marketing and all the other parts of running my salons."
Liliana acknowledges that this investment doesn't come without any apprehension. Her biggest fear? "That we won't be successful! We're investing a big chunk of money so it's scary!"
"But I'm confident that Great Clips will support us because they have a proven model. I'll definitely be taking their advice on everything, and also working with our local co-op, and of course, the corporate office. 
"I understand that the training from the franchisor is so important, but if you don't follow it, you're not going to be successful. I'll do whatever it takes to make sure I learn everything I can and then share that with my managers. That's really key."
To anyone looking into the franchise business, Liliana has straightforward advice: "Go through the interview process and listen to what the franchisor has to say, and then talk to franchisees who have been in business for two years or 20 years. The experience they've had will tell you so much about the franchisor. 
"If you talk to Great Clips franchisees, you'll hear what a great a company it is."